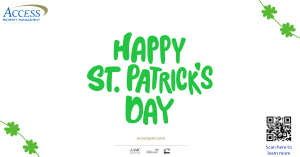 St. Patrick's Day is a special time of the year that a lot of us relate to luck. We are very very lucky to be surrounded by great employees who work with the amazing residents and board members who we help.
Our team works tirelessly to ensure that every aspect of your property runs smoothly and efficiently. From financial management to maintenance and repairs, we're committed to providing exceptional service to our clients.
But it's not just about hard work. It's also about having the expertise and experience necessary to get the job done right. That's why we're so lucky to have a team of employees who are not only dedicated, but also knowledgeable and skilled in their respective fields.
As we celebrate St. Patrick's Day, we want to take a moment to recognize the hard work and expertise of our team. It's because of their dedication and skill that we're able to provide exceptional service to our clients.
So, here's to our team at Access Property Management. May your hard work and dedication continue to bring success and good fortune to our company and our clients. Happy St. Patrick's Day!
---
Learn more
We understand that managing a property can be a complex and time-consuming task. As a result we offer a wide range of services to make the process as easy and stress-free as possible. Additionally, our website is designed to provide you with all the information you need to make an informed decision when choosing a property management company. Furthermore, you will also be able to read about our past projects. Therefore, we invite you to take a moment and explore the rest of our site.
Provided that, we ask you to click here to learn more.