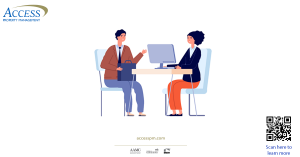 Access Property Management is a leading property management company that has been serving communities for many years. As the demand for our services continues to grow we seek talented individuals looking to grow their careers.
Exciting Careers: We are hiring to meet the needs of the communities we manage, as well as to support our new business. As a result we have a range of exciting opportunities available, including roles in property management, customer service, and more.
Dynamic Team Environment: At Access Property Management, we believe that our people are our greatest asset. Therefore we have created a dynamic team environment that encourages collaboration, creativity, and growth.
Flexible Work Arrangements: We work with people from diverse backgrounds and with different lifestyles. That's why we offer flexible work arrangements. After all this allows you to balance your work and personal life and be productive in the way that works best for you.
Comprehensive Benefits Package: We believe that our employees should be well taken care of, and that's why we offer a comprehensive benefits package. This includes health insurance, paid time off, and other perks.
Growth and Development Opportunities: At Access Property Management, we believe in investing in our employees. That's why we offer growth and development opportunities, including training, and more. As a result you can grow your career or develop new skills.