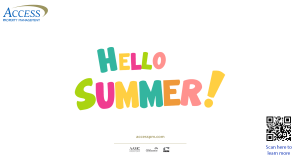 Happy First Day of Summer! Today marks the beginning of a season filled with warmth, sunshine, and endless possibilities. It's a time to embrace the beauty of nature, make lasting memories, and enjoy all that summer has to offer.
At Access Property Management, we believe in the principle of "work hard & have fun." As we celebrate the start of summer, we encourage you to find the perfect balance between work and play. Take time to enjoy the sunny days, engage in outdoor activities, and make the most of this vibrant season.
Summer is the perfect opportunity to explore the great outdoors and create cherished memories with your loved ones. Whether it's a day at the beach, a hike in the mountains, or a picnic in the park, let the spirit of adventure guide you.
While we enjoy the summer festivities, it's also important to take moments for relaxation and rejuvenation. Find time for self-care, unwind, and recharge your batteries. Whether it's a weekend getaway, a family barbecue, or simply spending quality time with friends, prioritize your well-being and make the most of these precious moments.
At Access Property Management, we strive to create communities where residents can fully enjoy the summer season. From well-maintained pools and outdoor amenities to beautiful landscaping, we are committed to enhancing the overall experience of our residents.
As we embark on this summer journey, let's embrace the 'work hard, have fun' principle. Let's make the most of this vibrant season by finding joy in our work, building strong connections with our communities, and cherishing the moments of relaxation and enjoyment.
Wishing you a memorable and delightful summer filled with happiness, laughter, and new experiences. Remember to work hard, have fun, and enjoy this beautiful season to the fullest!
See this post on LinkedIn