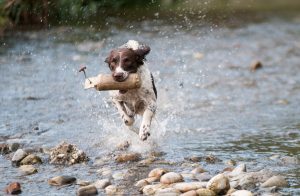 We love our dogs. Whether they keep our home safe or hog our bed, dogs are family members that we cannot live without. As with anything that is meaningful to us, dog ownership comes with a responsibility, which not only impacts the health and safety of the dog, but the lives of our family and neighbors. Keeping our dogs fed and sheltered are only small parts of responsible dog ownership.
Clean up After your Dog
Everyone wants their neighborhood to be beautiful, clean, and free from unwanted surprises. Cleaning up after your pet not only creates a positive relationship with neighbors, but also helps to ensure the health and safety of your dog. Pet waste left behind may bring health hazards. Responsible owners always carry a bag or scooper when taking out their dog. Check your own lawn routinely to clean up any pet waste that may be left behind.
Make Sure Your Dog is Easily Identifiable
A collar and proper ID tag are important measures that ensure your dog is returned to you should he or she get lost or displaced during an emergency.  All pet owners should consider having their dog micro-chipped or tattooed and appropriately registered in accordance with any local ordinance.
Leashes are not Just Accessories
As a pet owner, it is important to recognize that not everyone is comfortable with dogs or wants them in their yard. Some dogs can be frightening to children or cause unintended injuries.  Dogs off leash can be seriously injured in an accident, hurt another animal, or get lost. Many municipalities in New Jersey and Pennsylvania have leash laws. It is important to identify which ones apply to you and follow them.
Have an Emergency Plan
Emergencies can happen at any time. Having an emergency response plan that includes your pet can help save their lives. Make sure that you have a designated person or kennel that can watch your dog and monitor her safety when going on vacation. If you are required to evacuate during a storm, take your dog with you.
Socialize
Dogs that feel safe and calm when interacting with family members, neighbors, and other dogs is an important part of dog ownership. Dogs that are not socialized well can disrupt your neighbors and cause unintended harm. The proper socialization of your dog takes time and is a continual process. Teaching your dog it is okay to be alone will lessen separation anxiety, which helps reduce barking and howling.
Don't Leave Dogs Unattended in a Car
A long car ride can be a great treat for any dog, but allowing your dog to remain unattended in a car during very warm or very cool days can be dangerous. Even if you leave the windows cracked on hot days, the temperature of a car can exceed the outdoor temperature. Take your dog with you when you leave your car.  New Jersey law prohibits leaving any animal in an unattended car under inhumane conditions and includes fines for violations of the law. To avoid this, look for pet friendly rest stops, restaurants, and hotels when you travel with your dog.
Whether your canine friend is a running companion, a champion Frisbee player, or just a couch potato, keeping your pet safe and healthy is a number one priority.  Support responsible dog owner month this September by committing to being loyal to your animal and considerate of those around you.