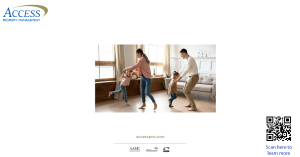 👨‍👩‍👧‍👦 Happy National Parents Day from Access Property Management! 👨‍👩‍👧‍👦
Yesterday, we celebrated the special bond between parents and their children. A lifeline for their kids, providing love, support, and guidance, we, at Access Property Management, aim to be a lifeline for our community members.
We understand the importance of creating safe, comfortable, and well-maintained living spaces for families to thrive. Our commitment to excellence in property management allows parents to focus on what matters most – their families. 🏠💚
We want to express our heartfelt appreciation to all the parents in our communities. Your dedication, love, and hard work inspire us every day. Your unwavering support and care for your families drive us to continue providing top-notch property management services. 🌟💕
To all the amazing parents, thank you for being the lifeline for your children, and thank you for allowing us to be the lifeline for your homes. Together, we create thriving communities where families can grow, flourish, and make beautiful memories.
From all of us at Access Property Management, Happy Parent's Day! 🎉🎈
See on LinkedIn