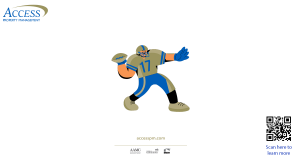 Super Bowl Sunday is almost here and the Eagles are ready to dominate the field! At Access Property Management, our core values center around the power of both hard work and having fun. That's why were supporting our local team in the biggest football event of the year!
The Eagles have displayed exceptional determination and effort all season long, constantly pushing themselves to reach their full potential. Now, they have the opportunity to make history by bringing home the coveted Super Bowl championship.
Like the Eagles, we are dedicated to putting in the hard work necessary to provide unparalleled service to our clients. Whether it's managing maintenance and repairs, handling financials, or responding to emergencies, our team is always working tirelessly to ensure that our communities run smoothly.
We also recognize the importance of having fun and enjoying the journey. This is why we are enthusiastic supporters of the Eagles and their quest for the Super Bowl title. Whether you're a die-hard fan or simply tuning in for the excitement, this game is an opportunity to come together, have fun, and celebrate the hard work and dedication of our beloved team.
So, let's raise a glass to the Philadelphia Eagles and to the values of hard work and fun that they embody. Cheers to a thrilling game and to a team that truly represents the principles that Access Property Management holds dear.