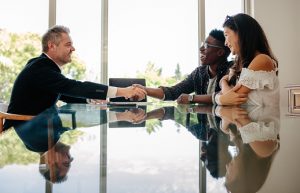 Access Property Management is your full service Burlington County property management company. We cater to residential and commercial property owners and condominium associations with complete services from our centrally located office in Mt. Laurel.
As you may know, the challenges of property management is best left to experienced professionals. Many property owners attempt to take on the tasks themselves and become overwhelmed, with their properties losing value.
At Access, it is central to our philosophy that each community has its own needs and should be managed accordingly. Our team of property managers continually stay aware of best industry practices, and we bring that experience and knowledge to work with every property we manage. We've been honored by the Community Associations Institute and the Institute of Real Estate Management, and we're proud of our growing list of satisfied clients.
Our services for Burlington County property owners include:
Customer Service. From 9:00-5:00 on weekdays, our employees are available to respond to service calls. We also provide a 24/7 answering service for emergencies, so tenants need not worry about unexpected crises.
Insurance Administration. Access will review your policies to make sure that they are up to date and provide necessary coverage. When it's time for renewal, we'll look for a better offer for you.
Vendor Management. When you receive a proposal from a vendor, we'll review the contract and ensure that it's valid and meets your needs. We'll also ensure that contracts are fulfilled and tasks are completed as per the agreement.
Accounting and Finances. We can create an annual budget and investment plan for you, manage your tenant billing and address delinquent accounts. Each month, we will send your financial statement.
Communications. We keep the members of your association informed with a custom designed website, text alerts, and print and electronic news reports.
If you'd like to find out more, have a look at our residential brochure or business brochure. We'd like for you to see why Access should be your choice for a Burlington County property management company. When you're ready to improve your community for the better, contact our Mt. Laurel office at (856) 802-1055 or use this form to e-mail us, and let us make the difference for you and your community!