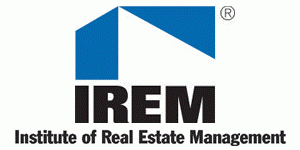 Are you seeking the services of a management company with superb credentials? Access Property Management is an IREM approved property management company dedicated to full service management. We represent homeowner and condo associations, as well as commercial property owners.
As you may have discovered, property management for an owner is full of challenges. It's vital to your property ownership turning a profit, and there are a multitude of problems to handle and compliance standards to meet. You can let go of the headaches by leaving the job to certified and experienced professionals who will do the job right.
The Institute of Real Estate Management (IREM) is a group of over 20,000 individuals nationwide dedicated to the continuous improvement of property management. IREM members are educated in and proven to be the best at financial and asset management, and believe that property management is about making the lives of residents and tenants better. For more about IREM, click here to see their website.
A property management firm seeking IREM approval must first have at least three years of experience in successful property management; they also must meet specific standards regarding financial, operational, insurance, and client requirements, and at least 18 of 28 functions regarding managing properties. Stability is the key, and Access Property Management has established our credentials through over 25 years of services.
Our IREM Approved Property Services
As an IREM approved property management company, we offer the following services:
Customer Service. We can respond to your property service needs with our 9:00-5:00 team on weekdays, and we provide an emergency service 24/7 so that residents need not worry about sudden crises.
Insurance Administration. Our team will keep your policies maintained and current, and when it's time for renewal, we can seek out competitive offers and find the best deal for your needs.
Vendor Management. When vendors provide a proposal, we ensure that it meets all of your requirements, and we represent your association with all working contractors and that tasks are completed properly.
Accounting and Finances. Access can help you devise an annual budget and investment strategy. We'll send you a monthly financial statement and help you manage monthly billing and other assessments, including addressing delinquent accounts.
Communications. We'll keep residents in the community informed through a custom website, text alerts for closures and other news, and electronic and print newsletters for members.
Access is a proud member of IREM and an AMO-accredited management association because we understand the importance of residents trusting their association. If you'd like to learn more about our exceptional services, download our residential brochure or business brochure. We look forward to changing your community for the better!