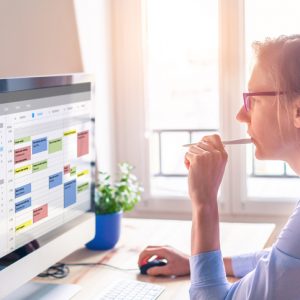 When overseeing a homeowner's association, it's absolutely vital to stay on top of tenant information, including overseeing rent payments, managing escrow accounts, and ensuring compliance with local, state and federal regulations. At Access Property Management, one of our many complimentary services for HOAs is software for tenant management. We supply all of the tools you need to effectively manage your HOA, all while sitting at your PC.
In any homeowner's association, the mountain of information to be stored and accessible is overwhelming. HOAs require information such as invoices, bank account information, late payment tracking, balances, credit histories and much more. This information isn't just vital to HOA operation, it's highly personal and must be protected. Effective software for tenant management can keep the vital tenant info you need in one easy-to-access place, while protecting sensitive information.
Our property managers and assistants use specific industry software designed to provide accurate and timely information, enabling us to manage everything in your community. Your tenant information is extremely valuable, and should be both easily accessible and privacy protected. With our fully customizable portals, you and your staff have real-time access to information for homeowners and board members, all while staying compliant with federal, state and local privacy laws.
Supplying the software for tenant management and the knowledge to keep you aware of the information you need is one of many ways Access Property Management helps you to improve your community living standards, keep your accounting numbers accurate with bills paid, and keep your association profitable.
Find Out More About Our Tenant Management Software Services!
If you're interested in more about how Access can improve your tenant management, reach out to us today at one of our many offices in New Jersey and Eastern Pennsylvania. We've been effectively managing properties since 1989, and we're looking forward to helping you change your community for the better!
Access Property Management is a full-service property management firm serving the needs of commercial and residential property owners throughout Eastern Pennsylvania and New Jersey. We are an Accredited Management Organization and an Accredited Association Management Company. Find out more about our services by downloading our residential or our commercial brochure today!