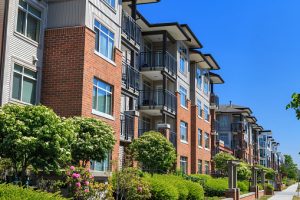 Access Property Management is a full service Flemington NJ (Hunterdon County) property management company. We offer a full suite of property management services to both commercial property owners and homeowner associations throughout New Jersey. Access has been serving clients for over a quarter of a century, and our successful experience has enabled us to become an Accredited Management Organization.
Property management is a big job, and it's generally not a good idea for property owners to take on the tasks themselves. Free up your time and let an experienced professional firm look after property maintenance, rent payments, evictions when necessary and more.
Our founder, Wayde Scheffer, believes that every community has its own specific needs. A Flemington property management company needs to continuously deliver efficient service and be aware of the latest statutes and best practices. Our staff regularly attends seminars to stay educated on the latest news and best methods of property management. Our goal is to improve relations in every community through trust, respect, and ongoing education.
Our Flemington Property Management Services
Below are a few of the many services we provide:
Customer Service. We maintain a 24/7 emergency answering service for homeowners in your association, and our managers' mobile phone numbers are available to board members at all times. Our help line operates from 9:00-5:00 daily, and we make it our priority to respond to calls within one business day.
Insurance Administration. Access ensures that insurance coverage is maintained at all times, and when policies are up for renewal, we'll take the time to review competitive offers and ensure your association is receiving the best value for the best price.
Communications. Access builds customized websites for associations, and we also produce print media and send text alerts that keep association members informed of ongoing news, such as projects, closures, and elections. Your website can also be used to showcase your community to potential residents.
Vendor Management. We oversee vendor contracts and ensure that they are fulfilled to specifications, manage the scope of work and ensure that the Request For Proposal accurately reflects that work. We work alongside the vendors and ensure that their services meet your community's needs.
Accounting/Financial Services. Access provides a full financial report each month, and we can assist you with budgets and collections, including the handling of delinquent accounts. We use technology and innovative solutions to help you make smart financial decisions.
If you'd like to know more about our services and our staff, feel free to download the online brochure on this website. We hope you'll agree that choosing Access as your Flemington NJ property management company is the smart move. When you're ready to discuss your needs with us, call or e-mail us using the form on this website. We look forward to making a positive difference in your community!