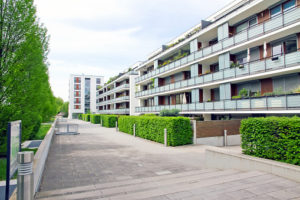 Access Property Management is a full service property management company for condo associations. Our offices can be found throughout New Jersey and Eastern Pennsylvania. We serve property owners throughout both regions and help make their properties both livable and profitable.
Property management in the age of the Internet and social media is vital. When potential tenants are looking at your property, they are going to see reviews that reflect your level of property management. When your property is managed effectively and tenants are happy, it works for both your reputation and your bottom line.
Whether you are operating a condo association, homeowner association, or a commercial property, our staff of experts can provide comprehensive service using the best practices and latest industry standards.
Originally founded by Wayde Scheffer in 1989, Access has been a respected choice as a property management company for condo associations for over a quarter of a century. We are listed as both an Accredited Management Organization (AMO), and we have also been certified by the Community Associations Institute as an Accredited Association Management Company, a distinction that places Access among fewer than 200 management associations.
Our Property Management Services for Condo Associations
Our property management services include:
Customer Service. We have a team of customer service representatives that are available 9:00-5:00 on weekdays, and we offer a 24/7 emergency hotline for your residents. We respond promptly to requests for service, and ensure that work orders are completed in a timely manner.
Insurance Administration. We ensure that your coverage is up to date and meets the necessary requirements. When your policy is up for renewal, we'll work to secure a better proposal.
Communications. Your residents need to stay informed about projects and closures; we can send text alerts and print newsletters, and even design a custom website for your development that can keep your residents updated and showcase your property to potential buyers.
Accounting and Financial Services. We keep your finances organized with a full report each month, and handle billing and collections, including from overdue accounts. We'll also help you with your annual budget and with board-approved investment strategy.
Vendor Management. Our team represents your association and ensures that vendors create a proposal that meets requirements, and that the vendors complete the contract work fully and to specifications.
If you'd like to know more about what makes Access your comprehensive choice as a property management company for condo associations, have a look around this website, or click here to view our latest residential brochure for property owners. When you're ready to bring our personal touch to your improved community, give us a call at 908-237-9900 or e-mail us through our contact page. We look forward to working with you and your association!